Learn more about building your own ColorSynth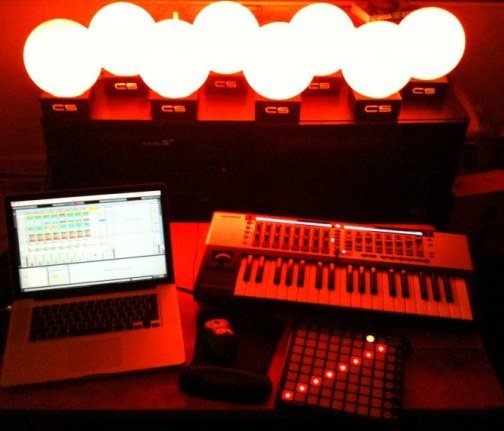 Pictured: eight ColorSynths controlled via Ableton Live. Eight MIDI clips from Ableton are routed to the eight ColorSynths by way of a max4live patch that is controlled by a Novation Launchpad.
CONCEPT
ColorSynths are stage lighting effects, designed by and for electronic musicians. They translate MIDI messages into light and colors. Using a ColorSynth can be as simple as plugging it into the MIDI out port of your favorite keyboard, electronic drum kit, or other MIDI capable device. Advanced users can use software such as Ableton Live, Max/MSP, PureData and others to create complex lighting sequences.
For the elctronic musician, ColorSynths offer a great advantage over current conventional lighting effects, as they do not require DMX hardware or software to operate. Simply connect to power and a MIDI source, and your ColorSynth is ready to add the most crucial element to your live musical performance – pretty, colorful blinky lights.
Learn more about building your own ColorSynth
MIDI
20 years after it's invention, MIDI still permeates the world of electronic music. In the simplest application, ColorSynths respond to MIDI note messages and instantly transform your synth line or drum beat into a synchronized color lighting effect. In more complex setups, multiple ColorSynths can listen to combinations of MIDI Controller Changes, generated by max patches and MIDI sequences, to create complex light shows.
MIDI Controller Changes can be used to control the speed of various color oscillators and strobing, as well as other parameters such as master intensity and MIDI channel eavesdropping.
KNOBS
Recently added to ColorSynths are three knobs and a pushbutton. These controls are mapped to various parameters like the color oscillators and strobing, and the pushbutton pages through three mappings of the knobs. All adjustments made with the knobs are transmitted via the MIDI OUT on channel 16, and local control of the knobs can be defeated via the dip switches (equivalent to turning "local" mode off on a regular synthesizer).